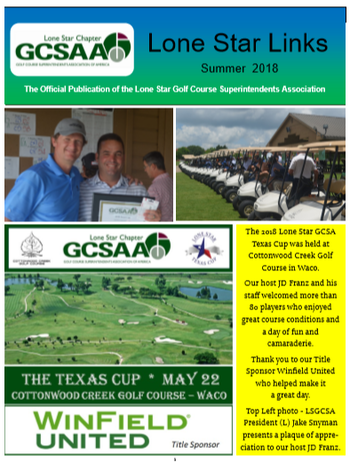 The Summer Issue of Lone Star Links is now available.
In this issue:
A very important topic covered by Jake Snyman in the President's Message.
A recap from our great day at Cottonwood Creek for the Texas Cup.
Save the Date and Information about the upcoming Texas Trophy
A look at all of our chapters from around the state in our new for 2018 Chapter Pages.
All your GCSAA and Lone Star GCSA News and Information.
​
Click Here To Read The Issue Online.
Click Here to Print out the PDF Version.
---
The 2018 Lone Star GCSA Texas Cup was held at Cottonwood Creek Golf Course in Waco.

Our host JD Franz and his staff welcomed more than 80 players who enjoyed
great course conditions and a fun day of fun and camaraderie.
Picture: (L) LSGCSA President Jake Snyman presents a plaque of appreciation
to Cottonwood Creek Superintendent JD Franz.

​Thank you to our Title Sponsor Winfield United who helped make it a great day. CLICK ERE FOR PHOTOS FROM THE TEXAS CUP
---
Save the Date - Texas Trophy! September 16 - 18
Corpus christi country club
---
AFFILIATE MEMBER APPLICATION 2018
DUES FOR ONE YEAR $100 FOR THE FIRST COMPANY MEMBER
​AND $50 FOR ADDITIONAL COMPANY EMPLOYEES.
CLICK HERE for application
---
Thank you to all who attended to make it a great day to remember Marian and to raise money to help the Takushi family. It was a special day at Timber Creek.

Congratulation 2 time Champion Matt Cowan
2018 GCSAA National Champion


CONGRATULATIONS LONE STAR TEAM 1 (sHAWN wESTACOTT, tANNER cHRASTECKY, mATT cOWAN, jASON bARRINGTON, eD mARTINEZ)
2018 gcsaa teAM cHAMPIONS
​

---

Congratulations, Matt Cowan on winning the 2017 Lone Star Texas Trophy Harry Yewens Medalist Trophy (2 years in a row!)

---
---

Lone Star Texas Trophy
September 10, 11, 12, 2017
Gentle Creek Country Club
Prosper, TX
Thank you ,Kyle Embry, GCS!



Click Here for all Golf Results!​Texas Trophy 2017



---

---

New advertising! You can now choose to embed a short video in to our website!

​The cost is $10 per second (interior page-pick your page)

$20 per second for home page (limited to two videos on the home page)

Videos will be visual for a 60 day period

send video in video format or html code (YouTube)

Sponsor and Advertising Rates 2018

Want to read about all our sponsor packages and ad prices?

CLICK HERE

AND THEN EMAIL LSGCSA@LSGCSA.ORG TO PLACE YOUR 2018 ORDER!

Renewal each year starts in December for the coming up year!


If you are a vendor, take advantage of joining early for maximum exposure! Reception sponsorships now have your dues built in! Contact:

lsgcsa@lsgcsa.org

Affiliate membership dues are not paid by the individual chapters. Cost per affiliate is $100. Must be a member to play in the Texas Trophy.

Dues are valid Jan thru Dec of each year and must be renewed each year to play in the Texas Trophy.

All Affiliates who join before March 1st get a free logo and link on the "Affiliate Members" page of the website!

Affiliate Member ApplicationCredit Card Authorization FormUpdate your contact information

---

---

Support WOTUS Repeal - Sign the Petition (click here to sign)

President Trump issued an executive order on Feb. 28th directing the EPA and the Army Corps of Engineers to review and replace WOTUS. Now the time for action has come and GCSAA needs your help. EPA Administrator Scott Pruitt has published for comment the administration's intention to replace WOTUS and is asking for input from all industries effected by federal water policy, including golf. We've simplified the process and are asking you to sign the GCSAA petition telling the EPA to TAKE A MULLIGAN ON WOTUS! You only have until September 28th to sign on, so don't wait. Sign today!

View the petition here

​

---

~Gold Sponsors 2017~ Thank you for sponsoring all LSGCSA Events! ~

~Silver Sponsors 2017~ Thank you for sponsoring all LSGCSA Events! ~

~Tee/Beverage Sponsors Texas Trophy 2017~
---
---